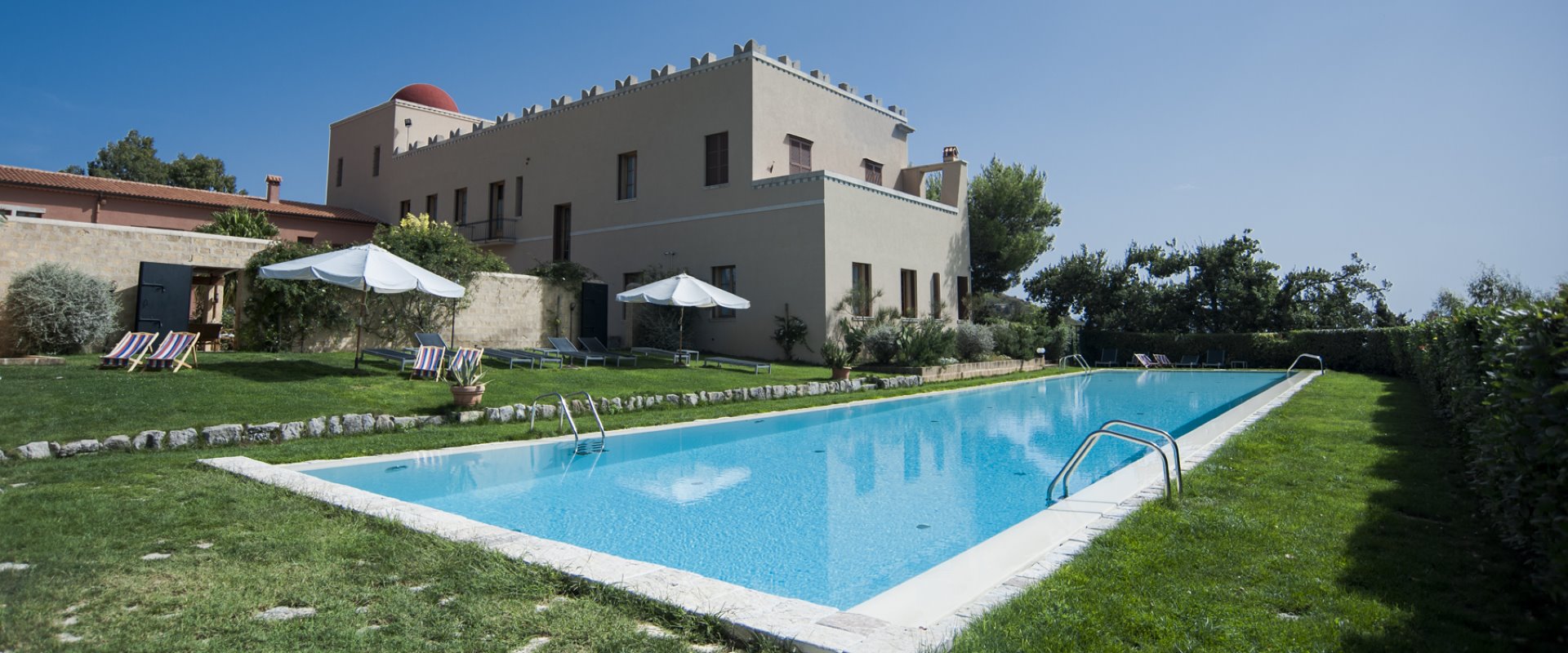 Luoghi incantevoli, momenti indimenticabili
Incastonata fra le colline di Santa Cristina Gela, Agrirelais è la dimora di Baglio di Pianetto. Un angolo di Sicilia tra vigneti e uliveti, intimamente legato alle sue tradizioni. Un amore riconoscibile nella cura di ogni dettaglio, come per esempio la cupola emisferica che richiama quella di San Giovanni degli Eremiti nel centro storico della vicina Palermo, simbolo dell'architettura arabo-normanna. I grandi saloni, l'accogliente stanza di lettura e la luminosa veranda sul giardino permettono a tutti gli ospiti di trovare un ambiente confortevole e adatto alle proprie esigenze. Le camere (ognuna arredata secondo una propria identità) si affacciano sui vigneti e sulle colline, o altrimenti guardano verso gli uliveti della tenuta.
Rooms
13 Camere: Deluxe Room - Superior Room - Junior Suite - Family Room - Romantic Suite con terrazza
Facilities
Aria condizionata - Mini-Bar - Cassetta di sicurezza - Wi-Fi - TV
Services
Air Conditioning - Mini-Bar - Built-in Safe - Wi-Fi - TV
Extra
Cooking Class - Wine tasting - Trekking - Horse Riding
Tasty Food
Delicius Wine
and Great Relax
The restaurant is always happy to welcome and tempt guests with typical Sicilian culinary dishes, offered in combination with Baglio di Pianetto wines. The very spirit of sharing finds a total dimension with us: Vineyards, Cellar and Relais are one, inseparable, and spectacular. The care of food and wine pairings, the delicacy of a cuisine attentive to the quality of raw materials and a thoughtful and discreet service make this place an exclusive residence of wine in Sicily. The visit of the vineyards and the cellar is an experience not to be missed.
Discovering Sicily
Palermo has managed to preserve the traces of past civilizations: Phoenicians, Romans, Byzantines, Arabs, Normans, Swabians, Angevins and Spaniards, they all left their visible mark in the art and life of the city. There are many sights worth visiting in the province of Palermo alone, we recommend Monreale, Bagheria and Cefalù and the Madonie Park. Less than an hour's drive from the estate, the region offers sites and destinations to suit all interests: archaeology, nature, seaside resorts, food and wine.
Via Francia - 90030 - Santa Cristina - Gela (PA)Google Maps